OVER 50 SECTIONS AVAILABLE
Use sections to create pages lightning fast
With One Page Express you can create pages super fast by combining predefined content sections. Then you can easily edit the content inside each section and customize their layout and design to fit your needs.
ABOUT AND FEATURES
Tell your story with a variety of about and features sections
CALL TO ACTION
Suggest an action using a CTA section to maximize results
TEAM AND TESTIMONIALS
Easily present your team and customer testimonials
CONTACT FORM
Our contact sections work with Contact Form 7 or any other form plugin
JUST CLICK ANYTHING AND EDIT
Live content editing directly in Customizer
One Page Express takes the Customizer to the next level. You can simply click any element on your page, be it a text, a button, image, icon, etc and edit its properties while seeing the results live.
EDIT TEXT
Just click and start writing. And you can also style the text, not just edit
ADD OR REMOVE CONTENT
Add or remove content elements like title, text, images, etc with just a few clicks.
CHANGE IMAGES
Changing an image is as simple as clicking it and choosing another.
CUSTOMIZE LAYOUT
Easily make layout changes like displaying 3 items instead of 4 in a list
One Page Express is responsive and
mobile friendly out of the box
Every element inside One Page Express is designed to look great on any
mobil device and any screen size.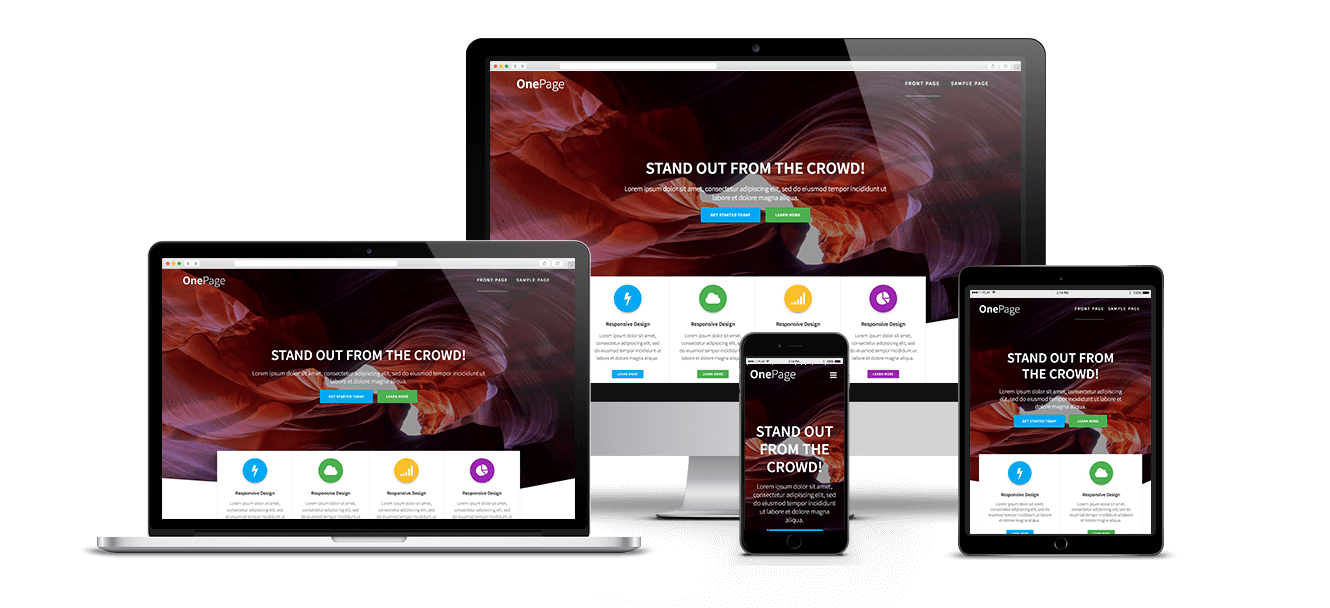 Free and PRO versions compared
Live editing in Customizer

Front page header designs
Video and slideshow backgrounds
Logo and navigation colors
Typography style and colors
Header overlay and separators
Customize background for each section
About and features sections
Team and testimonials sections
Newsletter subscribe sections
Customize footer text and colors
Create multiple pages using predefined sections
4 (image, video, lightbox, multiple images)
One Page Express PRO Pricing
Whether you're just building a website for yourself or you do this for your clients we have you covered with adapted pricing options.
Get in Touch
We'd love to hear from you and we're always excited to see what people create using out products. So whether you have a problem or not, feel free to drop us a line.
Need Support? Or just want to say hi?
You can use any of the contact methods below to talk to us.
Contact info
Mailing Address: 7-11 Iuliu Maniu Blvd, Building Z,
ground floor, 061073 Bucharest, Romania
Support Phone: +4 031 411 61 40